INNOVATIVE ALTERNATIVES
The Assembly Module is a sophisticated and user-friendly alternative to complex CAM software packages and inaccurate, time consuming manual inspection and programming methods that cost assembly houses productivity, time and money. Designed to enhance the StencilScan system, the Assembly Module is a fully integrated, off-line programming, inspection and measurement workstation.
PROGRAMMING
StencilScan's Assembly Module produces assembly programs and process documentation for Pick and Place, Insertion, Test, Inspection and Dispensing machines.
Import / Scan
CAD, Components, Boards, Film, Stencils, BOM and Gerber Data
Output
Component Pitch, Rotation and body dimensions
X/Y Component Centroid
Reference Designator & Package ID
Part, Feeder/Magazine Number
User Defined Data
Gerber Data
Process Documentation
Multiple machine specific CAD files (IMC, SMT, TEST, AOI) and Stencil file generation during one programming session.
Component Information for Vision Databases
BUILD COMPONENT LIBRARIES
Scan a component to automatically calculate and register the following information:
Lead Pitch, Lead Size, Body Size
Lead Groups, Pick Up Location, etc.
Specific Vision Data outputs for Fuji SMD3 and Siemens SIPLACE
Generic Vision ASCII files for other suppliers.
FIRST ARTICLE INSPECTION
The Assembly Module increases productivity with the ability to scan the first article and compare it to the CAD data.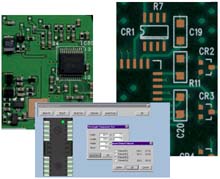 OFF-LINE INSPECTION & MEASUREMENT
StencilScan's Assembly Module uses a combination of editing functions to ensure that all information has been inserted correctly. This off-line verification significantly reduces first article setup time. Overlay CAD and/or Gerber data and compare:
Loaded Boards
Bare Boards
Stencils
Components
Wet Glue / Solder Paste/ Epoxy
Why Use StencilScan's Assembly Module?
Flexible: Use one workstation to produce assembly files for multi-vendor Surface Mount, Insertion, Test, Inspection and Dispensing machines.


Powerful: Use one workstation to inspect stencils, screens and bare or loaded boards.


Accurate: Find and eliminate errors with Loaded PCBs, Wet Solder Paste, Glue, etc.


Fast: Decrease programming time from days to hours.


Easy: PC based system.
ASSEMBLY MODULE FEATURES
INPUT DATA
PC Boards - Bare or Loaded
Components
Stencils / Screens
Gerber
ASCII CAD
BOM
Films
Drawings
Paper
AUTOMATIC FUNCTIONS
Surface Mount Pad Recognition
Insertion Hole Recognition
Automatic Text Function
Auto Load Gerber
PLACEMENT
Autofind Function Locates Components and Related Centroids
Global / Circuit / Local Fiducials
Automatic Generation of Adhesive Dot Centroids
Component Database
Editor Accuracy: 0.0001" (0.00254mm)
CHECK / VERIFICATION
"Jump-To" Component
"Jump-To" Reference Designator
Programming Environment Editor
Assembly File Editor
Gerber Editor
Scan and Compare Multiple Board Revisions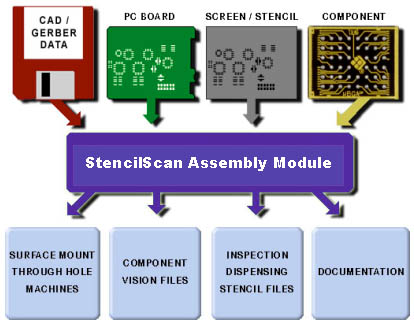 BOARD PROGRAMMING OUTPUTS THE ASSEMBLY MODULE SUPPORTS:
AmiStar
ASCII
Assembléon
Asymtek
CAM/A LOT
Contact Systems
Control Automation
CR Technology
Creative Automation
DEK
Dynapert
Europlacer
Four-PI (HP)
Fuji
Generic
Hitachi
Juki
KME
LPKF
MVT
Mydata
Panasonic/Panasert
Philips
Quad
Royonics
Sanyo
Siemens
SMTech
Sony
TDK
Tenyru
Universal
Vi Technology
Yamaha
Zevatech
THE ASSEMBLY MODULE CIM SUPPORTS:
Barco/Gerber
-- All machines (plotters & AOI)
CAMTEK
CAM/350 & ECAM-ACT
CIMBridge
FabMaster
GenCAD
GraphiCode
-- GC-Place & GC-CAM
LPKF
Laser Stencil Cutting
Lavanier
Lumonics
Mitron
PanaPRO
SIPLACE PRO
Technomatix
Unicam/Fujicam
Unicraft - Japan
WYSE Software
Many others...